Marshall - Junior Male - American Redbone Days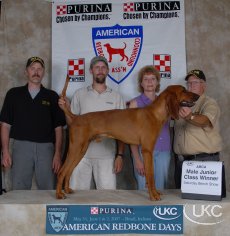 Shown: Dave, Dale Crigger, Joanne & Gene Allhands
Marshall is a litter mate to Lady Lela (owned by us) and PR Midnight Vindicator's Vengence (Vinnie) who is owned by Scott & Connie Hogan.
We co own Marshall with our friend, Gene Allhands of Republic, Missouri. Marshall primarily resides with Gene.
Marshall's first show was at the 2007 American Redbone Days. Gene states he hasn't worked with Marshall very much however, this dog stacked like a pro!
Sounds like he's got a nice future ahead of him.
We would like to thank our friend Dale Crigger for handling Marshall to winning Junior Male at Redbone Days. He did an outstanding job!